Top 8 Benefits of Image to Text Technology
Last updated at December 15, 2021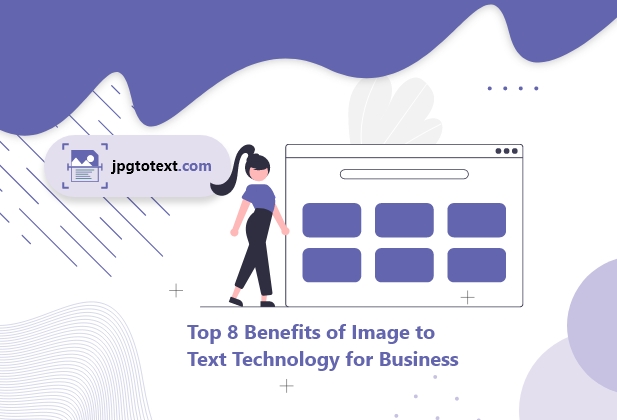 The main purpose of this article is to show you what your business benefits from using efficient technologies such as image-to-text converters.
The Image to Text Converter uses Optical Character Recognition (OCR) technology to help you extract text from any image or document. Later, the extracted text can be used for a variety of editing purposes.
With this OCR software, you can quickly convert scanned documents into searchable text files. Today, these documents are easy to view when you need them, greatly increasing the need to scan them. You can also easily share your scanned records online.
Some of the main benefits of using this online image to text converters are:
1. Data Ease of Use and Conversion
These online text converters make it easy for users to edit their documents. In addition, the data extracted from this tool will help users to use these important data digitally.
For example, if a user converts last year's manual input to a new digital file, this converter can be used to modify the old manual input to a usable digital format.
2. Text Extraction for Media Companies
It is very common for media companies to extract valuable data from large images. Therefore, image-to-text converters make it easy for these companies to get important data from large images in bulk.
3. Improved Audit Compliance
Documents and files are reviewed on a daily basis in many companies. Inaccurate and disorganized data can be very stressful to auditing. Also, failure to meet compliance requirements can have serious consequences.
Image-to-text converters help businesses get accurate data from physical files, images, and printed matter into their systems and manage them efficiently.
4. High accuracy rates
OCR technology reduces the chance of human error. People usually enter content faster to cover more content in less time.
For example, if you are writing a multi-page policy paper and you overlook a policy, it can be a big problem for your business. With this in mind, you need to use OCR more accurately. It solves all problems. It extracts the text from images correctly.
5. Inexpensive
OCR technology is a cost-saving factor, allowing businesses to use OCR-powered online converters to improve their business capabilities. Thanks to the converter for helping me manage the utilities using the app.
6. Time-Saving
I'm wasting time and effort doing this task manually. JPG to text Converter can convert multiple files at once without any problem. This saves time available for another important task.
7. High resolution
Due to the poor quality of the camera, these images are usually blurry. But extracting the text from jpg to text converter and also extracting text from low resolution and blurred images in many situations. In that situation, it provides high-resolution text.
8. Eco-friendly:
OCR does not generate environmental waste. However, you can significantly reduce wasted paper in the office. This technology can be minimized because 50% of office waste is made up of paper.
In addition, the paper industry cuts billions of trees and uses large amounts of water to make paper. Instead of consuming these critical resources and destroying the environment, businesses can use image-to-text tools to save their ecosystem.
Final words:
Image text technology offers many benefits in a business environment. This technology has completely changed the business environment. Undoubtedly, it intensified competition between companies, but it also made typical companies unique.
Optical Character Recognition wasn't primarily developed for businesses, but over time it has helped all industries reach unprecedented levels of profit.